Life goes on for photographer Ian Beesley
Ian Beesley talks to Ilkley Camera Club about his work and exhibition LIFE which has just come to a close at Salts Mill.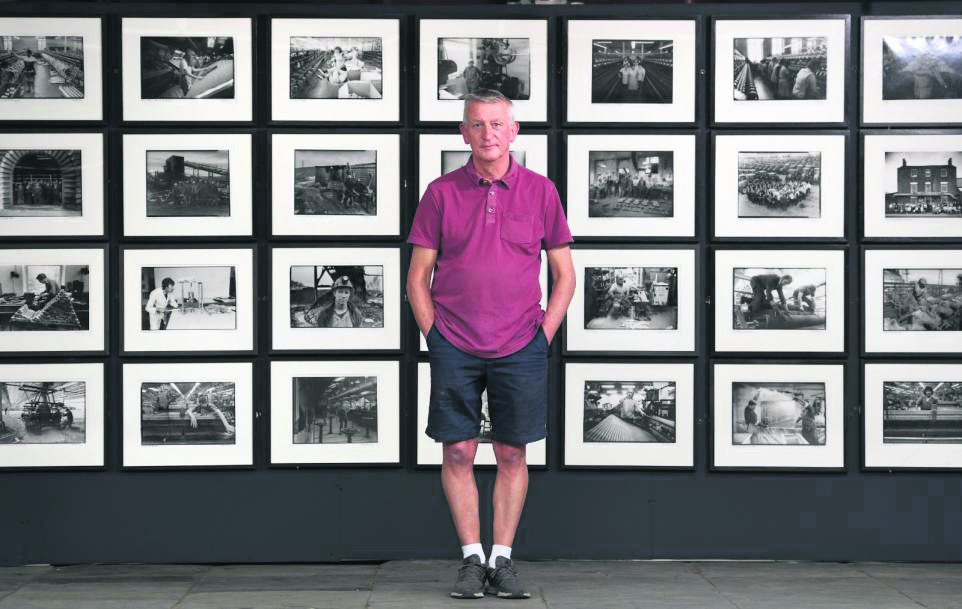 Ian Beesley is not just a photographer but someone who has built a deep relationship with the people and story of Bradford through a  time of brutal change. His talk at Ilkley Camera Club on Friday gave the audience a chance to understand the depth of his commitment, not just to Bradford but also to other industrial towns across West Yorkshire which have experienced the closure of industries and the demolition of communities.  
Ian Beesley's Exhibition LIFE at Salts Mill in Bradford came to an end at the weekend, but the good news is that next year there will be another exhibition featuring yet more of his work called 'Life – goes on' opening in April 2024.  In last Friday's talk, members of the Ilkley Camera Club in Addingham heard the poignant and hilarious stories behind the images.    
Ian started by talking about the challenges of designing the exhibition in a space 200 meters long, "the longest room in Europe". "Usain Bolt would struggle to run it in 20 seconds", Ian said. "There were too many images for me to frame everything, so I decided to pin many of them up. It was a perfect way for me to present them.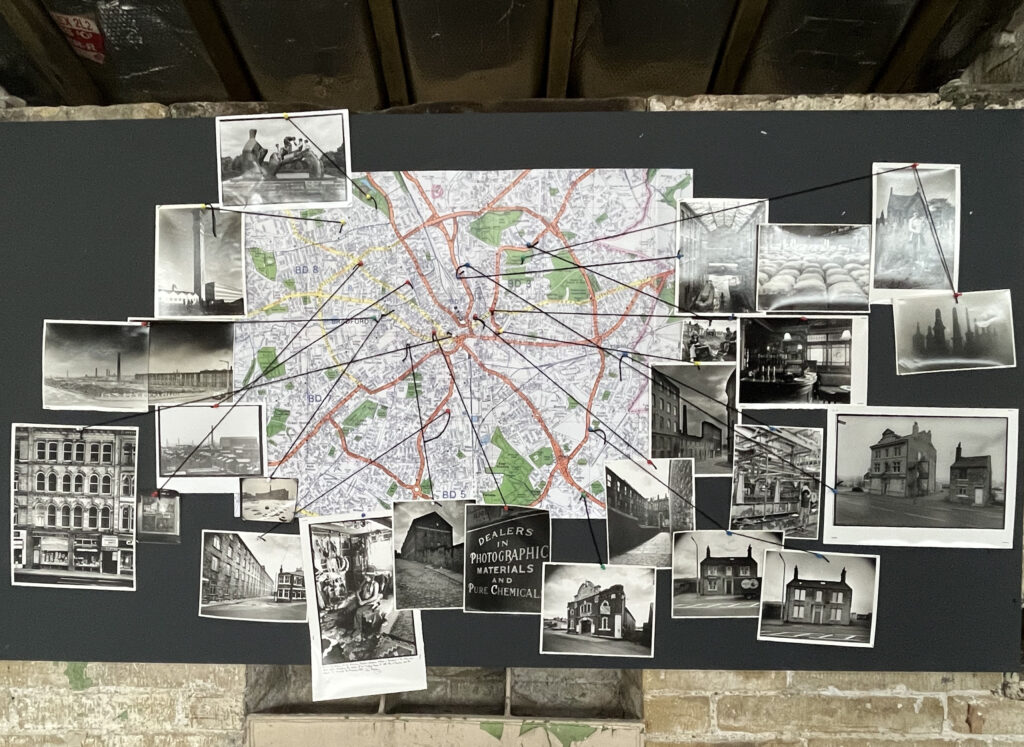 "Some of the images in the exhibition didn't work and are not perfect, but that's just me". Ian's approach was to be true to his own way of seeing things and not to have everything neat and tidy, "in some exhibitions you see every image in neat, identical frames, I didn't want to do that". When the book LIFE was designed Ian wanted to include his own handwritten notes, but there were some spelling mistakes which Ian felt were ok and reflected his own style. "I think many children these days focus more on the spelling than what they actually want to say".
During COVID Ian said he spent time watching crime dramas like Vera and Morse. He was inspired by the incident room crime boards with photos, notes and maps of the crime scene. "People are always asking me where photos are taken so I thought it would be good to show a map of the locations" (see photo)..
When Ian left school in 1972 he worked in a mill and a foundry before landing at Esholt sewage works. "This was a period that changed my life," Ian said. Unusually he was encouraged to take photographs during his work time, capturing images of the railway that ran through the works and intimate portraits of colleagues. "I worked in the engine sheds where I was able to reflect how they really were and as I experienced them". It was the encouragement of his fellow workers at Esholt that led to an acceptance at Bradford Art College in 1973. Since then Ian has been able to document the closure of many mills, factories and institutions across the region.
Ian is known for his evocative black and white images. He said initially his choice of black and white was not for aesthetic but economic reasons, it was cheaper to do black and white. In more recent times he has tried documentary pictures in colour but on one assignment the people in the pictures said that black and white was more true to life as they experienced it.
Ian lived in Eccleshill and he talked about the value of reflecting life close to home as you experience it, "I've always photographed where I've lived and what I'm part of. You don't need to go far, a mile from anywhere you can find what you need".
When Ian's dad died he was left some money which enabled him to buy 5×4 plate camera and tripod. This type of equipment, he said, meant he could stand beside the camera and make eye contact with the people he was photographing. One of the places Ian visited with his new camera was Grays Fisheries in Bradford. He'd walked past Grays many times and Mr & Mrs Gray were pleased to have their photo taken in front of the shop (see photo). In the picture you can just see a sign made of Cat's Eyes given to them by Percy Shaw who made his fortune by inventing the Cat's Eye – a reflective road marker. Soon after the photo was taken the building was demolished
Ian also paid tribute to the importance of the National Museum of Photography, Film and Television as it was in the 1980s. "The museum changed my life", he said. "I was commissioned by the museum to prepare an exhibition about the textile industry, it gave me the opportunity to meet some great photographers". Ian was clearly very upset, recalling that the core photographic collection of the museum was moved to the V&A, and the numerous name changes of the now National Media Museum. "It upsets me beyond belief. A generation of young people in the North are being denied the inspiration that was available to me." "If you're in London, Bradford's a long way, it's not on the end of the tube line".
In the closing comments following Ian's talk he was praised for images which displayed great tenderness. He said that this was true, there was tenderness, good humour and generosity even if the conditions were brutal.
A new exhibition 'Life – goes on' will be at Salts Mill opening April 2024 and Ian's website can be found at ianbeesley.com

Ilkley Camera Club is currently meeting on Friday evenings at 7.30pm. Some meetings are held at St Peter's Church Hall in Addingham and others on Zoom. For more information visit the Club website at ilkleycameraclub.co.uk or their Facebook page, facebook.com/ilkleycameraclub. Visitors and new members are welcome.