Kylie Martin joined the Ilkley Camera Club from her home in north Birmingham via Zoom on Friday September 3.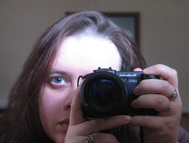 In an honest and wide ranging talk, Kylie took members on her photographic journey and the influence of her father who is still a big supporter. Her biggest challenge over the years has been her health as she suffers from M.E and Fibromyalgia. Her conditions have lead to severe stiffness and fatigue.
Kylie explained that getting out of the house has been extremely difficult and that over time her journeys have extended to no more than ten miles from her home. Kylie said, "if it wasn't for photography I wouldn't be here, it has saved my life", "I almost decided to give up photography but a turning point was taking part in the '365 Project' which I used to re-spark my photography interests" Kylie said.
In 2019 she joined the Disabled Photographers Society and has achieved their Licentiateship (LDPS) distinction. The LDPS has been one of many recent awards and distinctions.
Offering advice for photographers, Kylie said it's good to make the judges smile, "if you can evoke an emotion in someone, that's the best". "When you're out and about don't forget to look up. I use natural forms to create layers of interest in my photography".
Because of her illness, Kylie has been restricted in her travelling, "when you go back to the same place over and over again it's OK because it's never the same twice".
Kylie didn't talk much about the equipment she uses but did say she's using her mobile phone a lot these days.
The Covid-19 pandemic 'Zoom' trend has enabled Kylie to take part in UK wide judging events. "I was asked a few times if I had a lecture, which I didn't, so I created my first one. It wasn't an area I planned to go into, but I found the process fun to do".
In 2021 she has achieved her CPAGB (Photographic Alliance of Great Britain award)
and Judging and Lecturing is still going strong on Zoom.
Kylie has work for viewing in the galleries and is happy to sell her images.
kylie-annmartinphotography.weebly.com
On Friday September 10 there will be a MEMBERS' EVENING: A chance to show recent work, talk about members images and receive comments.
Ilkley Camera Club is currently meeting via Zoom on Friday evenings at 7.30pm. For more information visit the Club website at ilkleycameraclub.online or their Facebook page,