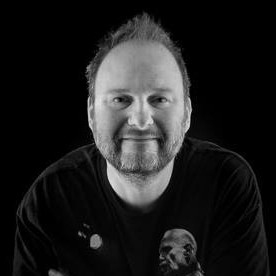 Simon Reed's talk to Ilkley Camera Club on Friday December 9 was entitled  A View From the Pit, not, as Simon explained, a coal mine but that of music venues around the country. Around 30 members of the club enjoyed his humorous stories and experiences acquired through work as a live music photographer.
Simon is a self taught music photographer who has dedicated the best part of his life to photography at live shows around the country. He has had the privilege of photographing many of the greats from the music scene and his work is syndicated worldwide. He is  a regular contributor to Louder Than War and RockShot music and culture magazines.
"There aren't many things I've done that compare to the thrill of being between the crowd and the stage in a big theatre. There are no second chances with this type of photography; you get it right first time, or not at all."
In an extremely honest and witty presentation Simon took us back to his early days and his obsession with live music,  "I absolutely worshiped Wilco Johnson, the guitarist from Dr Feelgood".  It was when Wilco had been diagnosed with terminal cancer and was on a farewell tour that Simon had the opportunity to photograph him. (see above picture).
As far as making a living from music photography is concerned, Simon says, "It is practically impossible to make a living so I've had to continue my day job as an air traffic controller".  "Unless you can prove you can (take good pictures) with a great portfolio you just won't be able to gain access".  And in order to build a portfolio he'll have to do the work for nothing and meet his own expenses.  
Getting photos seen in the national newspapers and in music magazines is the best way of building a profile Simon told members.
The ground rules he sets for himself include buying a ticket and asking the bands for permission in advance. He doesn't want to use photography simply as a means of getting a free ticket, and he'll make a point of offering the bands some of the photos.
If you want to know more about Simon's work and see some of his pictures visit musicalpictures.co.uk