Face to face with African Wild Dogs, an elephant called Hill Billy, and the best chocolate in the world. Ilkley Camera Club on Friday 12 March took a photographic trip to Africa with two adventurous club members, Helen Reynolds and Alison Tetley.   
Helen Reynolds was encouraged into photography by her dad who initially introduced her to darkroom processing.  Since her early days in New Zealand she has been a BBC Young Photographer of the Year and published in editions of the BBC Wildlife Magazine.
Her talk focused on research trips which included the Ngorongoro Conservation Area and Serengeti in Tanzania, the Hluhluwe Game Reserve in South Africa and Malawi.  These can be very dangerous trips taken on the back of a truck.  Helen described the challenges of vehicle breakdowns and the ever present danger of the wildlife itself including venomous snakes, hippos and encircling Lions.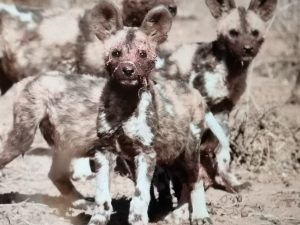 Helen's PHD is looking at the pack structures of African Wild Dogs. These fascinating animals and their behaviours were beautifully captured and presented by Helen.
Alison Tetley presented a contrasting view of Africa and the opportunities and challenges for the photographer.  She first took members to the former Portuguese territory of São Tomé Island, once the world's largest producer of cocoa, and then on to the sand dunes of the Namib Desert. 
Alison's images evoked the former industry of São Tomé Island which today is mostly abandoned and ruined buildings and the remains of heavy equipment.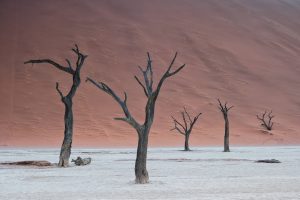 While in the Namib Desert the dunes are among the tallest in the world, in places rising above the desert floor to over 1000 feet.
Alison's stunning landscape pictures presented the vast and beautiful dunes and fossilized trees at their best. 
On Friday 19 March the annual digital competition, 'Open Mono' will be judged by photographer, lecturer & accredited judge, George Steele LRPS. 
Ilkley Camera Club is currently meeting via Zoom on Friday evenings at 7.30pm. For more information visit the Club website at ilkleycameraclub.online or their Facebook page, facebook.com/ilkleycameraclub